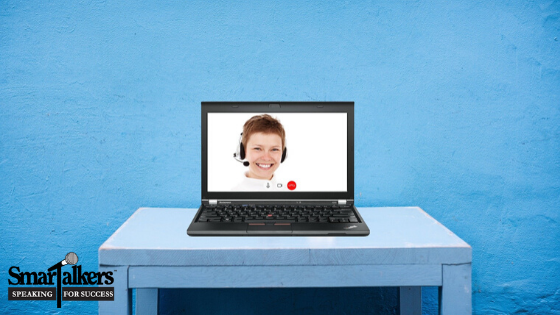 Could these be challenges that you, too, will face?
For the first time in history, oral arguments were presented to the Supreme Court via teleconferencing.
As a public speaking coach, I continually tell my clients, "The messenger must match the message." But what if you can't see how your audience is reacting to your message? How will you change or modify your information based on the reactions of your audience if you can't see them? I call this the absorb-project balance. When presenting, speakers need to absorb the non-verbal communication signals the audience is giving them and project back in a way that takes that into consideration creating a connection vs. a disconnection with their audience.
Take a look at how attorneys grappled with this
Here are the concerns of a couple of attorneys that presented.
"One difference will be the inability to read the body language from the court," says Ian Heath Gershengorn, a Jenner & Block partner who will argue May 11 for a criminal defendant in McGirt v. Oklahoma, the case involving the Indian reservation status of a large part of the state. "So much of being responsive to the justices' questions is reading the non-verbal feedback. A big piece of that feedback is gone, and that will be tricky."
Here's another expressed concern that also deals specifically with non-verbal communication-how to dress.
While some advocates arguing in Zoom video sessions have been chided for not observing normal dress codes or for inappropriate backgrounds, the telephone-only status of the upcoming Supreme Court arguments have prompted anxiety-inducing questions of their own.
First, should advocates stand up, as they would in court?
"Whether I'll stand or sit, I think I will play around with that" in his moot courts, says Gershengorn, adding that those practice sessions will be conducted online.
And what to wear? Martinez says he may don a lucky sweater.
"I am perhaps not going to be as dressed up as I normally would be," he says.
Gershengorn says he has received dress suggestions from colleagues that range from pajamas to the full morning coat and related attire he wore in court as a deputy U.S. solicitor general and acting solicitor general under President Barack Obama.
"I suspect it will be jeans and a T-shirt," he says. "I want to be as relaxed as I can be."
How do you determine body language and non-verbal communication when you can't see someone and how do you dress when presenting when they can't see you? I'd love to hear your thoughts on this. Please add your comments on this post or email me at wendy@smartalkers.com.