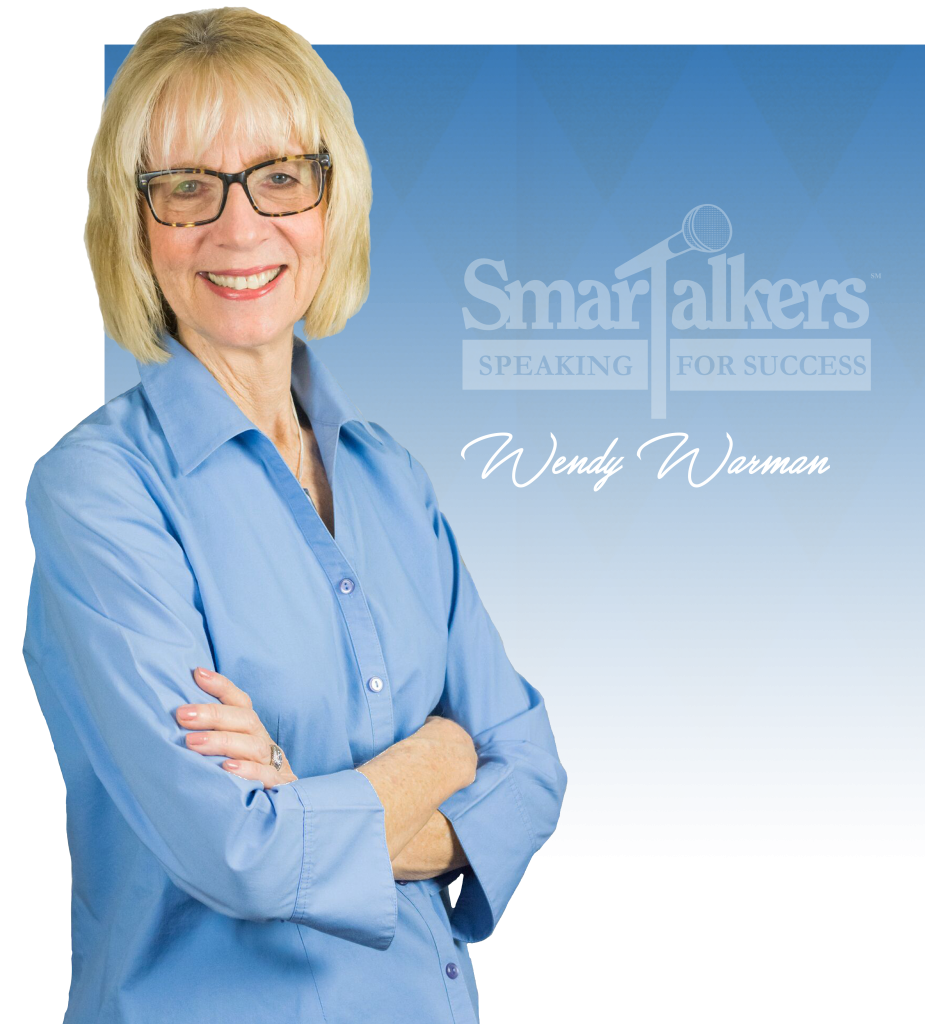 Coaching and training in public speaking skills is Wendy's passion. She has a proven process to help you present a clear, concise, and confident message. Her book Loud & Clear has sold over a quarter of a million copies.
WENDY WARMAN, MS CCC
Specializing in Public Speaking
and Communication Skills
As founder and president of SmarTalkers, Wendy is an executive speech coach, trainer, and author specializing in providing her clients with the skills necessary to present their ideas in a clear and concise manner that gives them the competitive advantage in today's workplace. Whether it is overcoming a fear of speaking, increasing confidence, influencing with assertiveness, or ensuring the messenger matches the message, Wendy provides the techniques to craft every message so that it is expertly designed and fearlessly presented whether to an audience of one or 1000.
Like many people, Wendy had a fear of speaking in public which kept her from showing others the confident expert she was. After overcoming her fear of speaking and professing "If I can do it, anyone can!" she founded SmarTalkers. Wendy has provided training and coaching for over 25 years for businesses large and small including Fortune 500 companies. With her professional background as a speech pathologist, Wendy brings a unique qualification to her coaching by helping her clients discover how to use their voice to bring life to their presentations creating an engaging and interesting approach to their message.
Wendy is a nationally known expert in the field of communications, an award winning professional speaker and co-author of the popular book Loud and Clear: How to Prepare and Deliver Effective Business and Technical

Presentations with over a quarter of a million copies sold.
In addition to public speaking coaching and training Wendy works with organizations that are dedicated to creating an environment that builds and maintains solid and trusting relationships across all levels within the organization through authentic communication skills.
Wendy enjoys the position of adjunct faculty member for the University of South Florida, teaching courses on Dynamic Presentations, Maximizing Your Human Resource Communication Effectiveness and Promoting Your Ideas to Influence the Decision Makers. She is an internationally televised trainer who has appeared on PBS The Business Channel and the Federal Training Network which broadcasted her programs worldwide.
Her clients are varied and include Honeywell, Bank of America, Bausch & Lomb, Home Shopping Network, USPS, CocaCola Enterprises, Tech Data, Cargill and Raymond James Financial.
Wendy holds a Master of Science in Speech Pathology from the University of South Florida. Recognized as a leader in her field, Wendy has been awarded the George Morrisey Lifetime Achievement Award for her dedication to the professional speaking business and awarded the gold microphone representing the highest recognition of achievement in the National Speakers Association's Central Florida Chapter. This was awarded to Wendy for achieving excellence in the professional speaking business
Past President of the National Speakers Association's Central Florida Chapter, Wendy is a certified speech pathologist with over 29 years of experience in the field of communication. She works with professionals who want to learn how to expertly communicate with confidence.
Honors
and Awards
George Morrisey Lifetime Achievement Award
Gold Microphone Award
Highest recognition of achievement in the National Speakers Association Central Florida Chapter for achieving excellence in the professional speaking business.
Over 300,000 Copies Sold
Wendy Will Take Your Presentation From Boring to Soaring
How do you want your next presentation to come across?
As a bland outline that glosses over your topic?
As a "data dump," confusing or boring your audience?
As nerve-wracking torture for everyone involved?
The key to effective presentations is PREPARATION
Loud and Clear shows you six steps for planning any technical or business presentation.

It discusses the best use of audiovisual aids and explains the basics of set-up and delivery.

Loud and Clear's practical, step-by-step advice has helped more than 300,000 technical experts become expert presenters as well.

Whether you present proposals to new clients or a weekly status report, Loud and Clear will help you deliver your message clearly and confidently.
Some of the Organizations that Have Benefited from Wendy's Expertise Include:
Wendy Works with Professionals Who Want to Learn How to Expertly Communicate with Confidence.
Contact Wendy
P: 863-696-3609
Sign Up For Our Newsletter