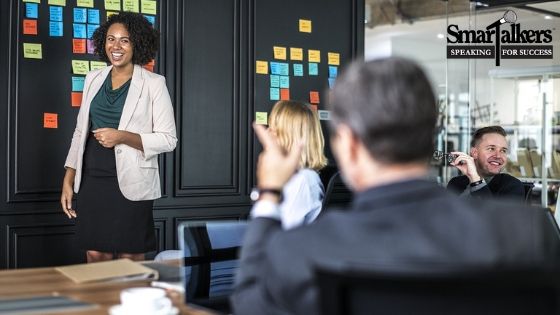 Knowing the type of presentation you're going to give is the first step in designing your presentation. Let's take a look at four of the most frequently made types of presentations.
1. Persuasive. Every presentation is, to a certain extent, persuasive. First and foremost, you must convince your audience that you know what you're talking about. Beyond this, you might use a persuasive presentation to:
Gain an audience's confidence

in the organization you represent and the message you are presenting.

Pique the interest

of a potential customer in a new product, service or program that you are offering.

Convince upper management

of the need to commit additional personnel or money to purchase new technology.
2. Explanatory. An explanatory presentation provides a general familiarization giving "the big picture." This type of presentation rarely involves a high level of detail. It might be used to:
Provide general information

relevant to the needs of another department, company or agency.

Present information

to a professional association, civic organization, or other groups in the interest of good public relations.
3. Instructional. This type of presentation teaches others how to use or do something, such as a new procedure or piece of equipment. This usually requires greater involvement of your audience to reinforce their learning and frequently provides detailed information. Typical uses for an instructional presentation are to:
Instruct customers

in the use of a specific process or equipment.

Coach employees

in the use of specific software.
4. Briefing. A briefing usually brings your audience up to date on something with which they are already familiar. Details may be provided on a selective basis, according to the needs and interests of your audience. A briefing may be designed to:
Update upper management

on current expenditures compared to budget.

Clarify modifications

to a particular product or service.
Overlapping of these presentation types may be necessary. For example, to convince upper management to invest in new technology, not only do you need to briefly explain the technology, but you will need to persuade them to make the purchase by providing the benefits of the new technology.
In summary, knowing what presentation type is necessary to achieve your objective is a key component to the design of your presentation. This will provide you with a guide as to how much information you will need to provide and how detailed the information needs to be.